---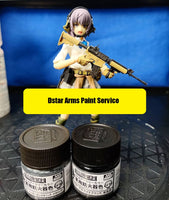 Paint service for Dstar Arms ONLY!

It is recommended, before you purchase this service, to e-mail: Info@dstartoys.com
All orders who do not contact us first will be cancelled
Don't have the confidence to paint your Dstar Arms Guns? Dstar Toys has got you covered and we can paint any of our Dstar Arms to your liking!

This service includes:
1 x Base coat and primer
2 x Color of choice
1 x Finishing coat of either flat or gloss
Each additional color will be $15 extra.
E-mail your ideas and color choices so we can discuss if the work can be done.
Disclaimer:
Price applies to a single figure, and you must add the appropriate quantity per figure sent. Buyer must ship the figure to Dstar Toys. Dstar Toys will not be responsible for any costs when shipping to Dstar Toys, and is the responsibility of the buyer to ship the desired action figure. Again, it is recommended that the buyer e-mail Dstar Toys before any work can be done.